Breathworks - Mindfulness for Health
A simple 8-week mindfulness and compassion course to give you the tools and skills to live well with your chronic pain or health condition.
Chronic pain and ill-health can feel unbearable, debilitating, and unfair. Many people at the beginning of these courses say their life feels completely overshadowed by their pain and illness.
Clinical trials have shown that mindfulness meditation can be as effective as prescription painkillers, and can enhance the body's natural healing systems. Mindfulness can also reduce the anxiety, depression, irritability, exhaustion, and insomnia that arises from chronic pain and illness.
Mindfulness for Health is the unique meditation programme developed by Vidyamala Burch to help her cope with severe pain and health complications following two major spinal injuries. She is now living a rich and fulfilling life, with more well-being than ever. The course has been backed with huge amounts of research, and changed the lives of thousands of people.
Techniques that Work
These techniques: a mix of mindfulness, meditation, a supportive mindful movement practice, and modern pain management strategies, were created and refined by mindfulness experts who made it their life's mission to share them, having suffered themselves from chronic pain and health problems.
Research and Testimonials
Here are some of the outcomes from our Mindfulness for Health course evaluations: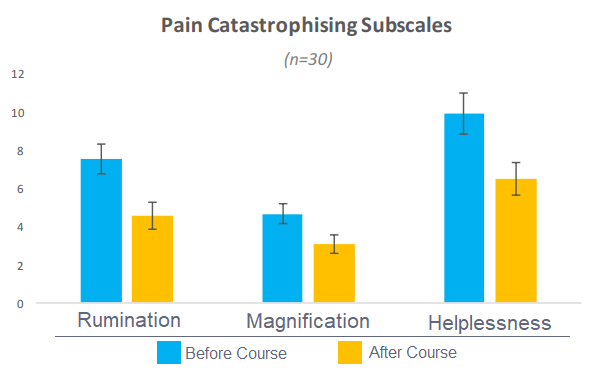 Rumination: e.g. "I can't stop thinking about how much it hurts."
Magnification: e.g. "I'm afraid that something serious might happen."
Helplessness: e.g. "There is nothing I can do to reduce the intensity of my pain."
Participants' experienced many other improvements; their overall quality of life increased by almost 50%.
The Course
The course itself requires 20 minutes of meditation per day, in addition to a little reading every week, and a weekly or fortnightly session with your group and teacher. The sessions will consist of 20 hours of class time over the 8 weeks, including guided meditation, in-depth teaching on the practices and techniques, discussion, opportunities for questions, and help with your home practice.
What will I learn?
The skill of meditation
Mindfulness and self-compassion skills in your daily life
Daily home meditation practice of 20 mins a day
To live in the present moment and breathe into your experience, rather than tensing against it
How mindfulness can help you to manage and live well with pain and chronic health conditions
Supportive mindful movement practices
Greater concentration and focus
The art of taking joy in simple pleasures
Transformative body and breath awareness for relaxation, tranquility, and to let go of tension
Pacing and learning how to break the 'boom and bust' cycle
What will I get with the course?
8-weeks of lessons - approximately 20 hours of class time over 4 sessions
A balance of teaching, questions and discussion, and guided meditation
Daily home meditation practice of 20 mins a day
Guided meditations CD / MP3 downloads
Teaching and practices to help you develop mindfulness and self-compassion, and to relieve pain and anxiety.
An experienced mindfulness teacher to answer your questions and address difficulties every week with personalised advice.
A supportive peer group of those on the course with you
Pre-booking is absolutely essential due to the nature of the course. Participants will be offered a telephone assessment to ensure the course is a good fit.
Is This Course Suitable For Me?
This course is not suitable for people in acute phases of depression. If you are in any doubt as to whether this course is for you at this time please talk to me or a health care advisor.
This course is based upon a particular teaching model and on the course you will learn and practice skills which can be applied to your individual situation. However, this course is NOT a replacement for therapy and the sessions will not be used for therapeutic group work.
Booking Courses
You can book onto our courses by visiting the Course Booking page.

.